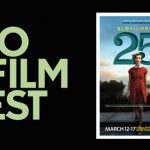 It's the 25th anniversary for the SLO Film Fest!!!
Check out some sweet special events like Surf Nite (3/15 at Fremont) and the King Vidor Awards (3/16 at Fremont) AND the After Party in the SLO Art Museum!!
Surf Nite:
The SLO Film Fest is delighted to put South Africa in the spotlight this year for its 14th Annual Surf Nite in SLO! Surfers Unite! This is the California premiere of SATORI by South African filmmaker Rick Wall! Cape Town residents, filmmaker Rick Wall, and SATORI surfer Rod Torr will attend.
Surf Nite in SLO is presented by Surfing for Hope, a non-profit organization in Pismo Beach created to help inspire people challenged by cancer through the positive energy of surfing.
King Vidor & After Party:
Join us for a festive evening as we celebrate award-winning films and our 2019 King Vidor Award recipient on the stage of the historic Fremont Theatre. This year's recipient is Alfred Molina!
Afterward, party the night away with the award winners and some great live music by The Tipsy Gypsies at the SLO Museum of Art, just a quick walk from the Fremont Theatre through Mission Plaza. Enjoy epic food, wine, beer, cider from local purveyors and festival sponsors.
Plus lots of movies screening all week at lots of theaters and venues around SLO, Paso Robles and Morro Bay!
KZOZ also Recommends the film "No Alternative" at Paso Cinemas 3/15 – 3/17, check dates & times here!