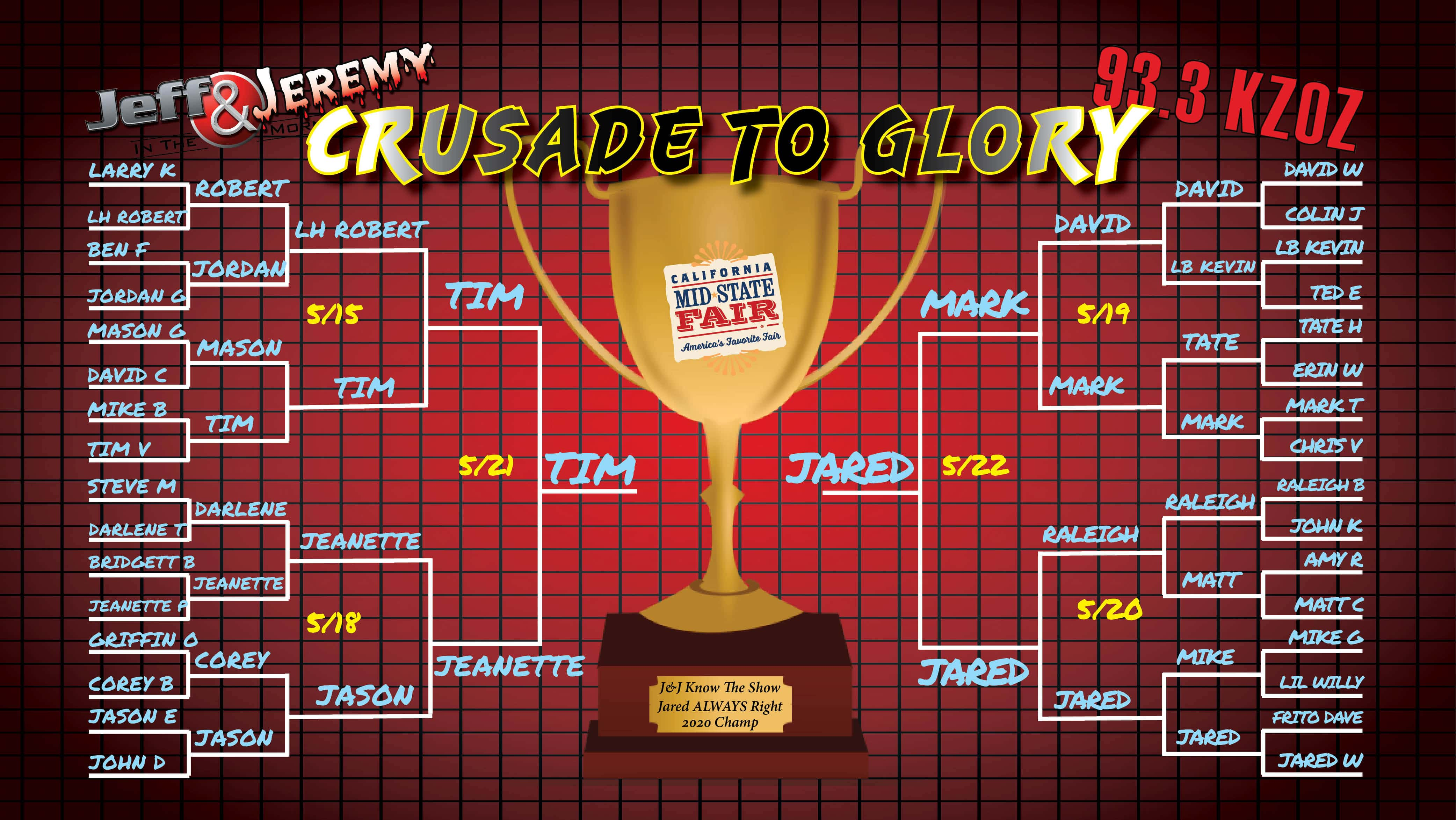 93.3 KZOZ Rocks with Jeff & Jeremy's Crusade to Glory Bracket!
The final round "Glory Battle Royale" Went down and it was a good one!
Tim 'The Tornado' Vaughn and Jared 'Always Right' made a good showing in for this epic final match up but it was Jared who took the win!
This round was BIG time…our players had to listen to Jeff & Jeremy in the Morning for 4 days this week. This was the most extensive Know The Show game in its history!
Carson The Intern came in for her final day on air with the guys and did not disappoint in her final round of questions for our Crusade contestants.
We say a HUGE congrats to Jared 'Always Right'! It's official, he's the biggest Jeff & Jeremy know-it-al and the 2020 Crusade to Glory Champ grabbing up our Grand Prize California Mid-State Fair pack: 2 Season Passes and 2 Tickets to every Grandstand Show for 2021!
Lots of love and thanks to the California Mid-State Fair for partnering with us on the road to glory!
ICYMI: The fair is canceled for 2020 due to COVID 19 healt concerns and the state's large gathering restrictions but we look forward to next year! 
Check out the Jeff & Jeremy Podcast for playback of the action! Hit the 'Hour 4' episodes for all the GLORY! CLICK THIS!
Jeff & Jeremy's Crusade to Glory!
Brought to you by our buddies at The California Mid-State Fair. Stay safe. Find more at midstatefair.com!