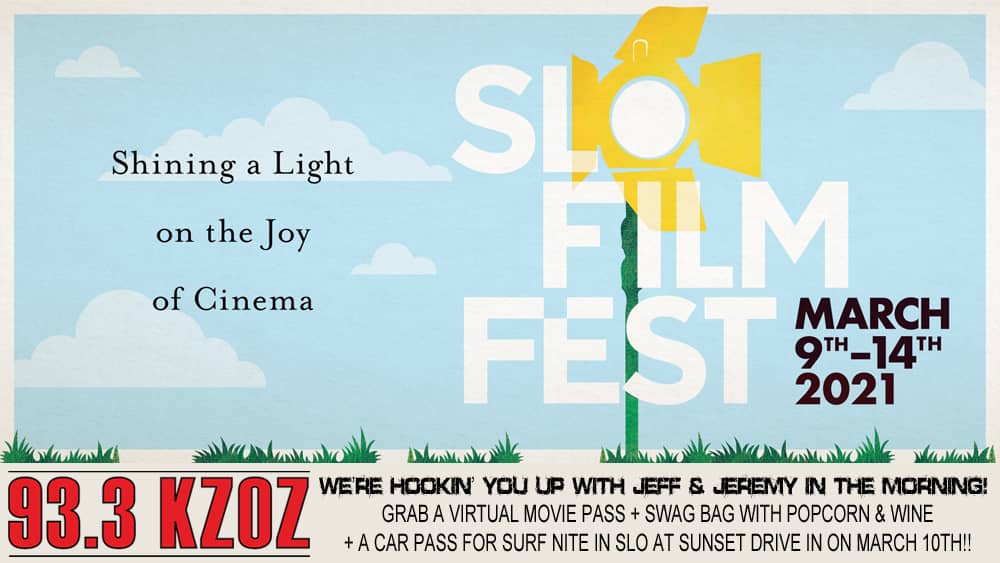 The 27th Annual SLO Film Festival goes virtual, March 9th – 14th…films, special events, panels, Q&A's and more!
Plus! The popular Surf Nite in SLO at Sunset Drive-In on Wednesday, March 10th (or watch it virtually) – double feature 'White Rhino' & 'Endless Summer!' Check it, click this!
WANT TO WIN? Listen to Jeff & Jeremy in the Morning just after 8am all week! Instant win a virtual movie pass and pick a movie to watch at home PLUS qualify for our grand prize with a special swag bag including popcorn and wine AND a free Car Pass for Surf Nite at Sunset Drive-In!
Check out these KZOZ reccommended movies and more at SLOFILMFEST.ORG!
Bleeding Audio – Follow the story of rock band The Matches' promising career, defeating break up, and inspiring reunion, as they reflect on what success truly means for musicians in today's digital industry. Their story overlaps with the drastic changes the music industry has undergone in the past several years.
Bleeding Audio – Official Trailer from Chelsea Christer on Vimeo.
Vinyl Nation – Focus on the vinyl record that died off in the 80s, but is now one of the hottest trends again worldwide. Explore the history and technical side of record production, and find a collection of passionate fans, musicians, technicians and designers who share their knowledge and theories on the resurrection of vinyl
Vinyl Nation – Official Trailer from Christopher Boone on Vimeo.