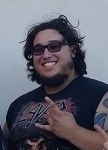 Kyle
Born in SoCal. Metalhead for life!!! \m/(-_-)\m/ Graduated from Simi Valley High School in 2009. Went to Moorpark Community College for two years as a music major. Stopped being a music major when the professors didn't like the music I wrote (Metal). Transferred to Cuesta for one year when I moved up to the Central Coast. Got accepted to Cal Poly SLO for the Journalism program and graduated with a Broadcast Journalism degree in 2014.
Thrown into the KZOZ fire, started my internship with Jeff & Jeremy in my last quarter at Cal Poly in Spring of 2014, First day of the internship was April 1st.
Once I graduated from Cal Poly, I was hired on as a Promotions Assistant and quickly became the Producer for Suzanne's Krush Lounge on The Krush 92.5, the Central Coast Craft Beer Radio Show among other shows on sister stations. When I'm not at the station you can fine me at concerts, record stores and breweries. Always looking to see which brutal metal album is coming out and which show is coming to the area or if it's going to be a road trip!
Hobbies- Tattoos, shredding on guitar, football (GO CHARGERS!!!) and pissing off the neighbors by playing brutal death metal \m/
Favorite bands: Lamb of god, Trivium, Slipknot, Metallica, Pantera, Avenged Sevenfold, Amon Amarth, Arch Enemy, A Day To Remember, Avatar, Anthrax and of course, SLAYER! \m/
Contact Kyle at Kyle@KZOZ.com
BONUS ROUND!!!! (NFSW…I drop an "F" bomb towards the end)
For your enjoyment, here's a video of me breaking my leg when I was 15. Backstory: It was the last day of "Dead Period" the week before Hell Week in football. I decided to go in and work out with some teammates when we decided to start doing things our way..
Kyle Posts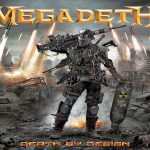 Earlier this week, Kyle had the opporitunity to talk to the legendary Dave Mustaine of Megadeth. Recently releasing "Warheads on Foreheads," a culmination of Megadeth's entire career so far...