CALLING KIDS OF THE CENTRAL COAST!
WANT TO ROCK WITH US AT KZOZ?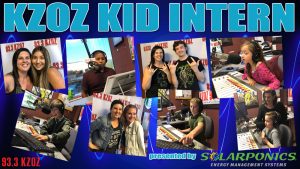 Enter to win a chance to hang out and rock as a DJ and co-host an hour with KZOZ afternoon personality Suzanne!
Each week one lucky kid will get a behind the scenes tour, read the weather forecasts, play their favorite rock songs and much more ON THE AIR!
Sign up or Register to Win Below! Must be 8 years or older to enter. (and we'll go up to 18 if you're still in High School)
The KZOZ Kid Intern presented by Solarponics! 
Homeowners, if you're thinking about going solar, don't wait! The Solar Tax Credit drops at the end of THIS year. 43+ years of amazing service and the highest-rated solar energy company on the Central Coast!