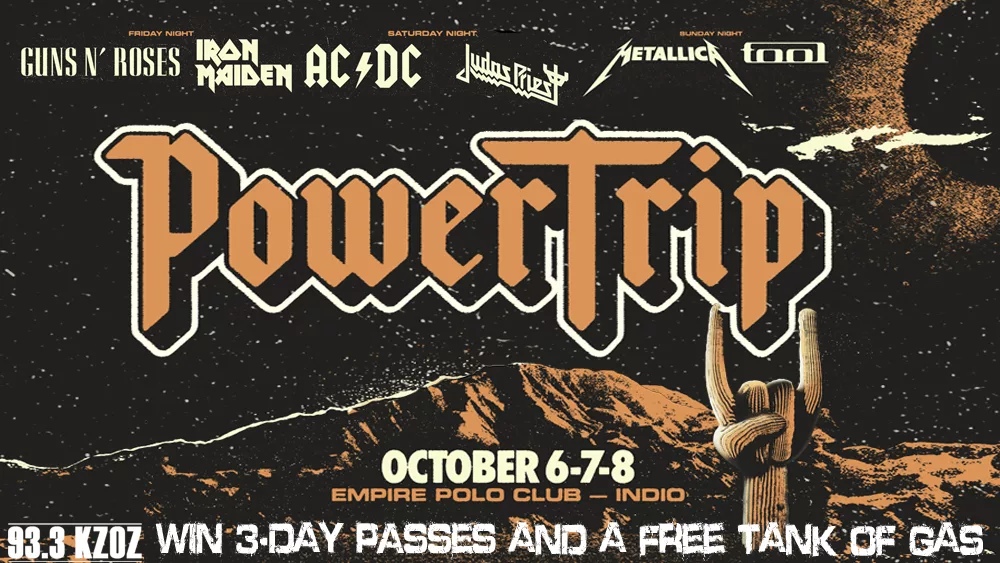 Get in on the KZOZ Power Trip Stock Pile!
CLICK HERE TO CHECK TICKETS, CAMPING, PARKING AND MORE!
3 Nights, 6 epic bands! 
October 6th – Guns N' Roses & Iron Maiden!
October 7th – AC/DC & Judas Priest!
October 8th – Metallica & Tool!
Win tickets to Power Trip all week here at KZOZ!
Here's how it works:
THE GAME: Jeff & Jeremy, 7:20a, get the BAND of the Day…Kurt, 11:20a, get the LYRIC of the Day Put those together to figure out the SONG of the Day! Hear it on air with Suzanne, 2-6pm…be first on the phones! 
THE PRIZE: Instant win a pair of 3-Day Passes! AND, qualify for a free tank of gas…one winner each week gets the KZOZ Gas Valet upgrade…Suz will come out and pump your gas! 
(Contest Period: Mon 9/18-Fri 9/29. Weekly "Gas Valet" drawings: Fri 9/22 + Fri 9/29 with Suzanne after final ticket winner of the day.)