The KZOZ 5:01 Happy Hour Hang is crackin' cans with Atascadero's 'Brew at the Zoo'!
Bust out your inner party animal and hit KZOZ on Facebook and YouTube this Friday 9/11 at 5pm!
Jeff & Jeremy hang with the 'Brew at the Zoo' crew, Charles Paddock Zoo, and brewers from Santa Maria Brewing, Wild Fields Brewing and Bristol's Cider House! Plus, live music from locals Bear Market Riot!
This is your chance to WIN a free pass for the VIRTUAL 'Brew at the Zoo' event on September 26th! Spoiler alert…that's a 14-pack of FREE BREWS!
'Hop' in on our Happy Hour this Friday at 5!  93.3 KZOZ Rocks!
Hang on the Facebook Live Stream: https://www.facebook.com/933KZOZ/posts/4931877303504435
Hang on the YouTube Live Stream: https://www.youtube.com/watch?v=S8k2X4CjHc0
BREW AT THE ZOO VIRTUAL FEST TICKETS ON SALE NOW! CLICK THIS!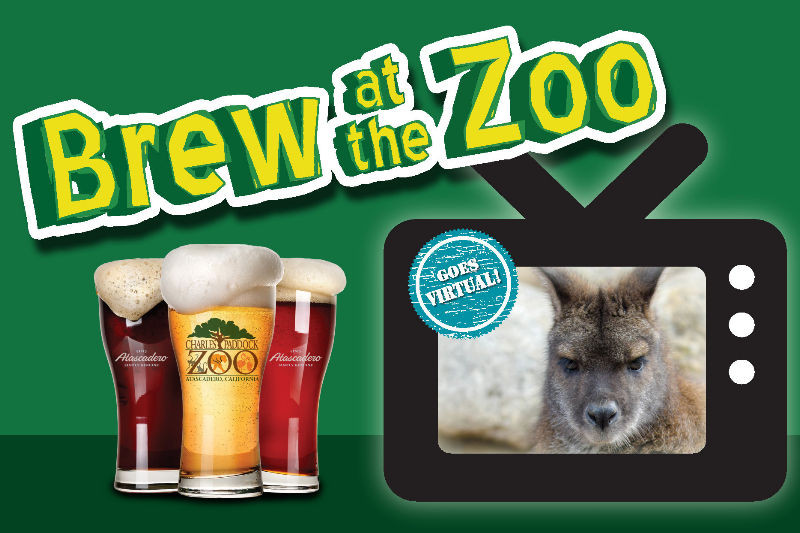 Full Press Release:
BREW AT THE ZOO VIRTUAL FEST!
LIVE FROM THE CHARLES PADDOCK ZOO!
Who wants to be a party animal!? Saturday, September 26, 12-3 pm
We are so excited to be able to host Brew at the Zoo LIVE from the Charles Paddock Zoo in Atascadero on Saturday, September 26th from 12 – 3 p.m. We get to send you amazing beers, and go behind the scenes with animals, right from the comfort of your home! Brew at the Zoo Virtual Fest will feature 13 craft breweries and 1 cider from San Luis Obispo County and the surrounding area. You will get a 14-pack Virtual Box mailed directly to your front door along with some brewery swag, and you will join us virtually to watch the breweries take you through each tasting. 100% of the proceeds go directly to the Zoo, so you can enjoy great craft beer and help the animals as well. The Charles Paddock Zoo is an accredited Zoo with the Association of Zoos & Aquariums, which means the education, conservation and maintenance efforts are top notch! Out of over 2,400 Zoos in the United States, there are only 240 accredited Zoos and we are thrilled that our Zoo is one of them!
Brew at the Zoo Breweries include:
Bristol's Cider (Atascadero)
Central Coast Brewing (San Luis Obispo)
Figueroa Mountain Brewing (Buellton)
Firestone Walker Brewing (Paso Robles)
Kilo Kilo Brewing (Paso Robles)
Liquid Gravity Brewing (San Luis Obispo)
M Special Brewing (Goleta)
Rincon Brewery (Carpenteria)
Santa Maria Brewing Co. (Santa Maria)
Silva Brewing (Paso Robles)
SLO Brew (San Luis Obispo)
Tarantula Hill Brewing Co. (Thousand Oaks)
Topa Topa Brewing (Ventura)
Wildfields Brewhouse (Atascadero)
You will also get to meet some of the animals at the Charles Paddocks Zoo! Go behind the scenes with us throughout the Zoo, and find out more about these amazing animals! Who knows who might drop in on us during the event!
Only 300 tickets will be made available for this event, including 60 VIP tickets that include a Brew at the Zoo commemorative t-shirt! General Admission is $65 and VIP Tickets are $80 (both include shipping costs). This event will sell out!
The Brew at the Zoo event benefits the Charles Paddock Zoo, so this is a great opportunity to enjoy craft brews and support the Zoo! The virtual festival will be 3 hours long and will include a walk-through of 14 craft brews from 14 artisan brewers. Get your house dialed in and dress like a party animal! We want this experience to feel like you are at Brew at the Zoo, but in your homes! Prizes for best costumes will be given! We will email you a link to login into the Brew at the Zoo virtual fest by Friday, September 25th.
ONLY CALIFORNIA RESIDENTS MAY PURCHASE TICKETS AND ALL TICKET BUYERS MUST BE 21+.